CMS Innovation Center Adjusts Various Programs on Account of COVID-19
The Centers for Medicare & Medicaid Services (CMS) Innovation Center recently announced various adjustments to certain valued-based payment, shared savings, bundled payment and other innovative reimbursement programs in order to grant participants additional flexibility in light of the COVID-19 pandemic and not unfairly penalize such providers for increased costs associated with the pandemic. Among other changes, as well as potential changes yet to be announced, the CMS Innovation Center made adjustments to timelines/deadlines as well as quality and financial methodologies to account for the impact, delay and other adverse consequences of the pandemic. More specifically, in making the adjustments, CMS sought to appeal to new participants by providing flexibility in model design, aligning financial incentives with national value-based programs, reducing the burdens of participation and ensuring fairness and consistency among the various programs.
Among the programs affected was the Direct Contracting (DC) payment model, which, similar to the Next Generation ACO, allows a range of large provider organizations to enter into risk-based contracts for certain populations of Medicare fee-for-service patients. Another was the Primary Care First (PCF) payment model/Seriously Ill Population (SIP) component, which assigns interested SIP patients in the service area to participating providers who are paid for care provided to SIP patients based on the high complexity and need of such patients, with further adjustments based on quality metrics. Implementation of the DC program and PCF SIP component was delayed until April 1, 2021 (instead of January 1, 2021), to allow participants sufficient time to complete the application process. More information on the new DC and PCF payment models can be found here.
In addition, CMS made various changes that impact Medicare Shared Savings Program ACOs and Next Generation ACOs, including, among other changes, removing from the shared losses/shared savings calculation certain episodes of care related to COVID-19 treatment and allowing such programs to be extended for another year through December 2021. Quality reporting deadlines for these programs and others were also extended so that providers could maintain their clinical focus on addressing the COVID-19 pandemic at this time.
Provided below is an excerpt from the CMS announcement, which highlights some of the changes to the various Innovation Center programs. More information on such changes from CMS can also be found here.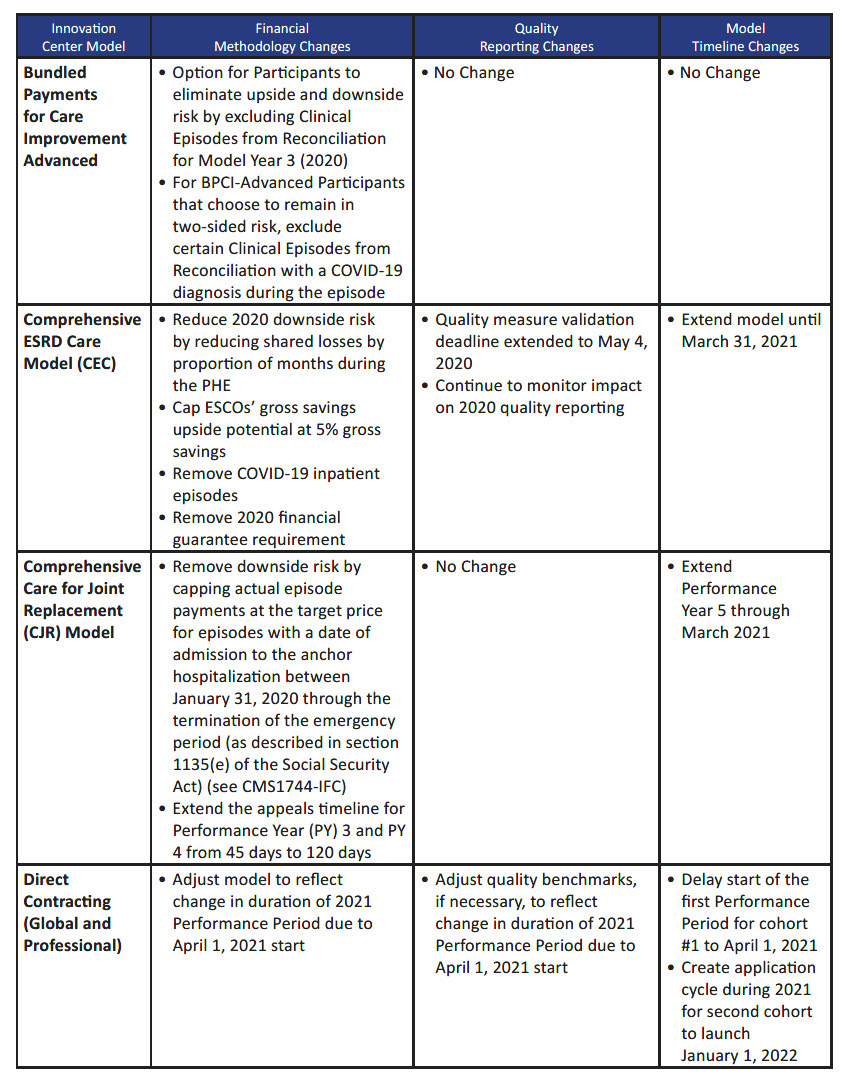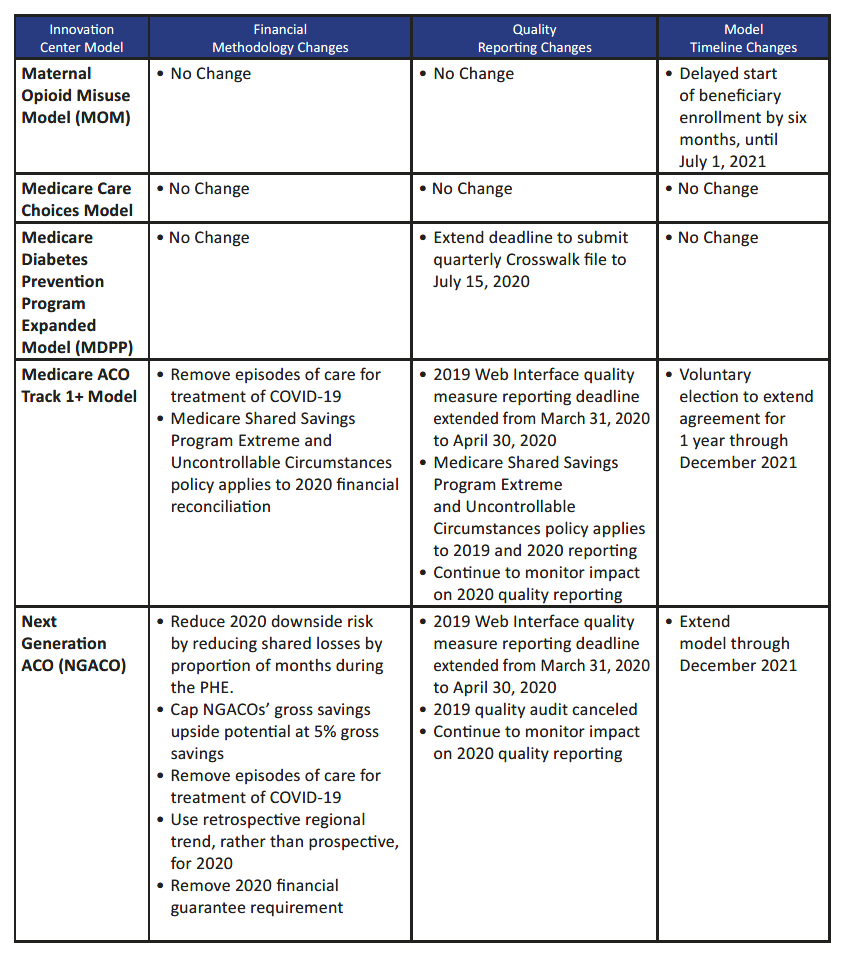 Source: CMS Innovation Center Models COVID-19 Related Adjustments, June 3, 2020.
Print