Ohr Breathes Life Back Into Scabby the Rat
Acting General Counsel Peter Ohr made a major move to protect inflatable animals like "Scabby the Rat" (pictured below). Scabby is a universal symbol used by Unions to protest an employer's use of non-union labor — especially in the construction industry. Under current National Labor Relations Board law, the use of inflatable animals is lawful even if directed toward employers not directly involved in the dispute.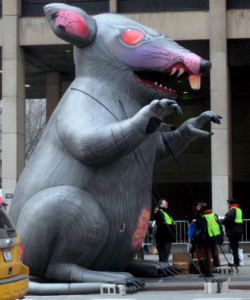 Former General Counsel Peter Robb (Ohr's predecessor who was recently removed by President Biden) had aggressively prosecuted cases involving Scabby. In fact, former General Counsel Robb had directed that Regional Office's appeal decisions to the Board so that the Board could reevaluate whether the use of Scabby violated the National Labor Relations Act. Presently, there are two cases pending before the Board on this very issue.
Last week, Acting General Counsel Ohr changed course dramatically and asked the NLRB if they would return the Complaints in those two cases back to the Regional Offices so that they could be dismissed. Put differently, Acting Counsel Ohr told the NLRB that he no longer believed in the cases that his predecessor had been prosecuting. Acting General Counsel Ohr's filings explain that the pending lawsuits are "a waste of valuable Agency resources and not in the public interest."
However, given the procedural posture of the cases involved, Ohr does not have the unilateral authority to pull back the lawsuits. Instead and because the cases have already progressed to the Board, it is Board that has the final say on whether they want to return the Complaints to the Regional Offices or decide the cases on their merits.
We will keep a close eye on what the Board does next and keep you updated.
Print