Paycheck Protection Program Update: New Money to Be Allocated
The initial allocation of $349 billion in forgivable loans to be made to small businesses and non-profits under the Paycheck Protection Program (the "PPP") administered by the Small Business Administration (the "SBA") was fully allocated on April 16, 2020.
Tentative Deal Reached
On April 21, 2020, the U.S. Senate approved the Paycheck Protection Program and Health Care Enhancement Act (H.R. 266), which includes:
an additional $310 billion for the PPP, of which:

$30 billion is to be set aside exclusively for PPP loans by lenders with assets of less than $10 billion;
$30 billion is to be set aside exclusively for PPP loans by lenders with assets between $10 billion and $50 billion; and
the balance is unrestricted by lender type;

an additional $60 billion for the SBA's Economic Injury Disaster Loan program (which it is administered directly by the SBA), of which $10 billion would be in the form of grants;
$75 billion is allocated for hospitals;
$25 billion for COVID-19 testing, of which $11 billion would be directed to states; and
$2.1 billion for SBA administrative expenses.
The U.S. House of Representatives is expected to vote on the bill on Thursday, April 23, 2020.
Next Steps
We will continue to monitor legislative developments in the interim.
For those with PPP applications with lenders, clients should re-engage to ensure the application is complete and ready to be submitted to the SBA pending enactment of this bipartisan deal. On April 20, 2020, in connection with proposed additional PPP funding, Richard Hunt, President of the Consumer Bankers Association, stated:
"This is going to go within, at most, 72 hours. But the odds are more like 48 hours."
Allocation of Existing PPP Loans
On April 20, 2020, the SBA released its report on the allocation of 1,035,086 loans under the PPP through April 16, 2020. Among the highlights, Pennsylvania businesses received $15.7 billion in PPP loans (average loan size of approximately $226,000), New Jersey businesses received $9.5 billion in PPP loans (average loan size of approximately $284,000), and Delaware businesses received $1.1 billion in PPP loans (average loan size of approximately $211,000). The average loan size was $206,000, with 56.2% of the allocated PPP loan amounts for $1 million or less.
The SBA also provided an analysis of borrowers by SAIC code, reporting the following allocation by industry:
Construction – $44.9 billion
Professional, Scientific and Technical Services – $43.3 billion
Manufacturing – $40.9 billion
Health Care and Social Assistance – $39.9 billion
An analyst report by Morgan Stanley, dated April 21, 2020, identified the following public companies as having received PPP loans: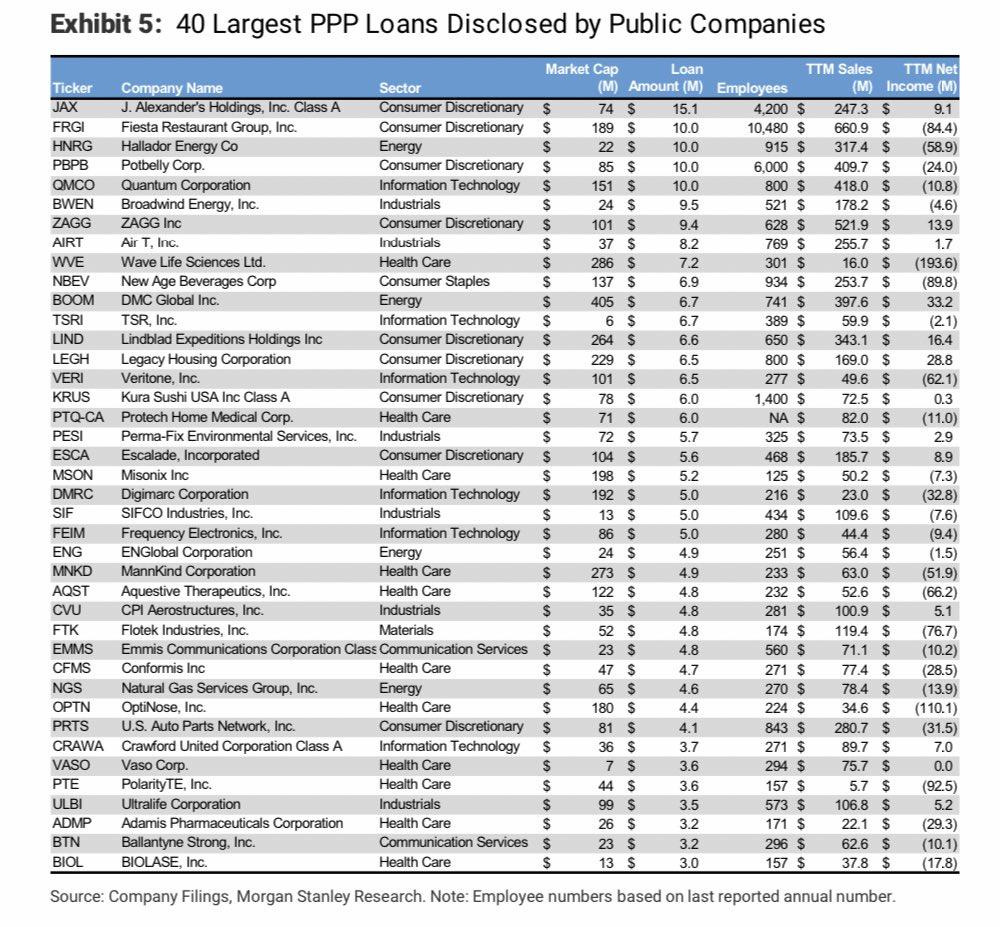 Our combined team of Stevens & Lee lawyers, Griffin Financial Group investment bankers and other professionals in our multidisciplinary platform is ready to help you with any of the foregoing steps. We are working together to stay current on new developments and to assist clients with issues affecting them during this unprecedented global health challenge.
Please contact David W. Swartz, Anthony S. DiSandro, Sunjeet S. Gill, Daniel J. Sobol or the Stevens & Lee attorney with whom you regularly work if you have questions or need assistance with this process.
This News Alert has been prepared for informational purposes only and should not be construed as, and does not constitute, legal advice on any specific matter. For more information, please see the disclaimer.
Print